Aptamil first infant milk
---
Availability:In Stock

Product Code: 5051594006812

Reward Points: 295

Price in reward points: 29500
---
APTAMIL FIRST INFANT MILK
Aptamil infant milk can be used birth to 6 months and as part of a weaning diet from 6 months to 1 year. It is suitable for combination or bottle feeding.

Contains DHA (Omega-3 LCPs)

How to Prepare Aptamil first milk:
1.Wash hands and sterilise all utensils according to manufacturer's instructions.
2. Boil 1 litre of fresh water. Leave kettle to cool for 30 minutes and no longer (allowing the water to reach 70°C once cooled from boiling) Measure the required amount of water (refer to feeding guide) into a sterilised bottle. Be careful of scalding. Do not use artificially softened or repeatedly boiled water.
3. Using the scoop provided, level off the powder with the built in leveller. Do not press/heap the powder.
4. Add the correct measure of powder to the water. Adding too many or too few scoops can be harmful. Place the sterilized teat and cap on the bottle and shake immediately, vertically and vigorously for at least 10 seconds, until the powder is dissolved.
5. Cool under running tap. Check temperature of feed. Feed immediately.
STORAGE
Store powder in a cool dry place, Do not refrigerate, Use powder within 4 weeks of opening.
Buy Aptamil formula milk from Portal Pharmacy. We offer same day delivery services

Related Products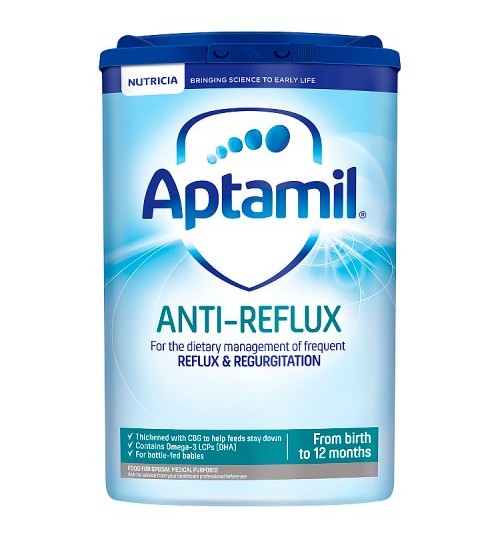 APTAMIL ANTI REFLUX MILK POWDER 800GAptamil anti-reflux is good for children who have reflux. It has.....
Aptamil 2 is a scientifically advanced nutritious follow-on formula based on more than 40 years of r.....
AVEENO BABY ECZEMA THERAPY NIGHTTIME BALM 156GM.....